A personal Audi experience as thoughtfully designed as our vehicles.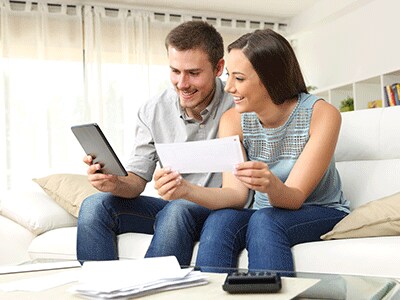 We recognize the needs of our shoppers and owners have changed. Audi at Your Door is designed to give you a premium online shopping experience and peace of mind that your Audi dealer operates with your safety in mind.
With Audi at Your Door, through participating dealers, you can:
Have the test drive brought to you
Appraise your trade-in virtually
Work remotely to purchase your vehicle and have it delivered directly to your door
Have your vehicle picked up and returned for service

Convenient, virtually and at your door...on your terms
Shop
Work virtually with your dealership to find the perfect vehicle that meets your needs. See one you like? Your participating dealer will bring it to you to test drive.
Buy
Experience a suite of amenities designed to help you make your purchase remotely with your convenience and safety in mind.
Own
Whether you have just purchased a new vehicle or need your current vehicle serviced, we can come to you.
---
How Does Audi at Your Door Work in Conjuction with Raisor Rapid Retail - Our Online Purchasing Tool?
By combining online buying resources with our delivery service, you can enjoy a seamless online shopping experience from beginning to end. With Audi at Your Door, you can complete the entire buying experience from the comfort of your own home with minimal contact. This premium online shopping experience allows you to enjoy a quick, intuitive, and highly satisfying way to buy your next vehicle.
By following each step of Audi at Your Door, you can save yourself time and energy that would otherwise be spent on-site. Each step effortlessly leads to the next, making for a transparent and enjoyable buying experience. These steps include:
1. Select Your Vehicle
The first step is as easy as choosing the right vehicle for your daily driving needs. With our online buying tool integrated with our online inventory, you can easily transition from researching your next vehicle to buying it. We are proud to carry a vast selection of new Audi cars and SUVs with the latest features and technology for you to consider.
Some of the top models in our new inventory include:
2. Calculate Your Payments
Once you have found the right vehicle, you can get started on personalizing your payment plan. You will discover that you can fine-tune everything from the down payment amount to the length of the term. As you make your selections, your estimated monthly payments will update in real-time.
3. Value Your Trade-In
If you have a trade-in vehicle that you would like to add, we offer the Kelley Blue Book trade-in tool. By following a few simple steps and providing information about your trade-in vehicle, you can discover the value of your trade-in based on objective marketplace data.
4. Apply for Financing
You can save yourself time-on-site by completing our online finance application. Our finance team works with a network of lenders to help you find competitive rates.
5. Schedule a Delivery
With everything else out of the way, you can schedule a time to schedule a time for us to deliver the vehicle for a test drive. If it's the right match, you can sign the final paperwork and have the vehicle delivered to your home.

Hours
Monday

9 AM - 7 PM

Tuesday

9 AM - 6 PM

Wednesday

9 AM - 7 PM

Thursday

9 AM - 7 PM

Friday

9 AM - 6 PM

Saturday

9 AM - 6 PM

Sunday

Closed